Rosslyn Chapel (sometimes spelt Roslin or Roslyn) is just 23 miles away from the Glenholm Guest House. The chapel was featured in Dan Brown's best selling novel "The Da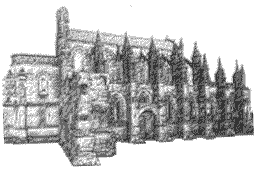 Vinci Code". Part of the movie of "The Da Vinci Code" was also filmed at Rosslyn Chapel. The road to Roslin (the A701) is fast and quiet and you can combine your visit with a tour o Edinburgh's other attractions. The official Rosslyn Chapel web site will tell you more about the chapel and its opening times.
Glenholm also has much to interest the historian with, among other features, five significant Iron Age sites to discover and explore.
---
&copy The Glenholm Centre
Broughton, by BIGGAR, Scottish Borders ML12 6JF
Telephone: 01899-830408 - Fax: 01899-830408
E-Mail: info@glenholm.co.uk
---