The Glenholm Centre has been responsible for the development and support of a number of Microsoft Access databases ranging in application from veterinary practice to book sales to wine merchant stock control and management.
While it is always our goal to provide you with the skills for in house personnel to develop and maintain your own databases and training is an important part of our remit, we can also provide the programming required to turn a useful database into a powerful one. Or we can help you on the road to developing a cost effective, easy to maintain and sustainable database to help manage your business or organisation, Our databases are currently developed using Microsoft Access or OpenOffice Base, but we can also now offer SQL server solutions to your database needs.
How We Work: Enhancing Existing Databases
A number of our clients have come to us with existing databases that their staff have inherited, but where they lack the knowledge to maintain and update them. Our strategy here depends on the skills and experience that exist in-house but would usually involves three areas of support:.
We would aim to provide the skills that would enable staff to make minor changes to the database themselves.

We would discuss changes that are needed within the database with staff members and where these would involve skills that either don't exist in-house, or where learning these skills would not be of long term benefit, we would specify (and quote for) the work required and make these changes ourselves.

For ongoing support and development of the database we would look to identify at least one member of staff who could liaise and collaborate with us over time. In this way, even if such staff lack detailed knowledge of database development, they will have some knowledge of the way in which the database has evolved.
This strategy has been used in the past and currently in the development of databases for a local estate agent (Hastings and Co.), an agricultural society, and a Scottish farm co-operative (Farmstock), a Scottish Government organisation in the West of Scotland, a garden nursery in Edinburgh and a major microbiological testing laboratory.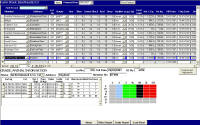 How We Work: Developing New Databases
For brand new applications the initial phase is to analyse the nature of the business application. In some case an existing but obsolete database system can be used as the start point. In others the system has to be specified from scratch through discussion with the potential users of the system.
Once the requirements of the system have been identified, we will provide a complete document describing the tasks that the database will address, together with the work (time and cost) required to develop each section.
Once implemented any bug fixes or corrections to meet the initial specification are provided as part of the initial cost. Any new developments that were not part of the original specification are charged at the usual hourly rate.
Once the database has been developed according to specification we would always look to work with one or more members of staff to co-ordinate further development, and where possible to provide some in-house knowledge to make system changes (see Enhancing Existing Databases above).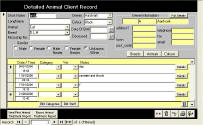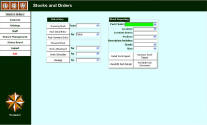 Since we started we have been involved in developing database systems for: managing a local veterinary practice; managing a local wine merchant; managing a timber merchant; managing a Tweed manufacturer; managing a yarn dying plant and managing a large online second hand book selling business.
Integrating Databases With the Web
There are two aspects of database development that involve integration with the web. Some databases need to use information taken from web pages while data stored in databases may need to be used to develop dynamic web sites. Our databases have on occasion been used for both.
Among other things, the database for the online book selling business uses the web to access, download and process details of book orders. It also has features which are used to update information through online forms, and to automatically upload files to web sites.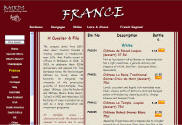 The product and pricing information in our wine merchant database is used at the heart of the web site for the same company, and through these pages customers are able to place orders online. The mail order information is then downloaded automatically into the database and used to generate dispatch documentation and to update stock records.
What To Do Next
We offer a high quality, friendly, affordable, but above all careful, service. All database development is done by Neil Robinson who has 36 years of wide-ranging experience in the IT industry, and in recent years has been providing database development, computer support and training to home computer users and small and medium sized businesses throughout the Scottish Borders and in the Biggar area of South Lanarkshire.
To discuss your database give us a call on 01899 830408. We'd be more than happy to visit you and talk through your needs, and that first stage costs nothing!
Rates
Item
Cost
Database Development
£35.00 per hour
Travel Expenses: £32 minimum fee for the first 15 miles from Broughton, and then £0.50 per mile beyond that.