If you are looking for someone to help speed up your computer, obtain and install a new hard drive, install broadband, to persuade your scanner to work or just to give you some advice before visiting the computer shop, contact the Glenholm Centre.
We're 12 miles from Peebles and 7 from Biggar. You can bring you computer problems to us but we are also happy to travel anywhere in the Scottish Borders, South Lanarkshire or to Edinburgh to help you.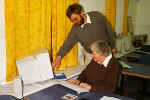 We offer a high quality, friendly, affordable, but above all careful, service to anyone with a PC (including 'notebooks' or 'laptops') running Microsoft operating systems up to and including Windows Vista.
Our IT support person is Neil Robinson who has 26 years of wide-ranging experience in the IT industry, and in recent years has been providing computer support and training to home computer users and small and medium sized businesses throughout the Scottish Borders (particularly around Peebles, Galashiels, Kelso and Selkirk), in the Biggar area of South Lanarkshire, in Edinburgh, and even on occasion as far afield as Dundee.
Problem Diagnosis and Repair
We offer PC software and hardware problem diagnosis, and where possible repair, either at your own home or office, or at our Centre near Broughton.
Our policy is that unless we can either solve your problem, or provide a diagnosis of what the problem is, then you should only have to pay any transport costs that we incur. Otherwise our rates are outlined below.
Where problems require lengthy diagnostic processing or software downloads from the Internet it is often more time and cost efficient to leave your computer with us. Then you will only pay for the time that we are actually working on your PC.
We can guarantee that we will not put your data in jeopardy and would only carry out software installation, or as a last resort disk reformatting, after consultation with you.
Database Development
The Glenholm Centre has been responsible for the development and support of a number of database ranging in application from veterinary practice to online book sales to wine merchant stock control and management.
While it is always our goal to provide you with the skills for in house personnel to develop and maintain your own databases, we can provide the programming required to turn a useful database into a powerful one. Or we can help you on the road to developing a cost effective, easy to maintain and sustainable database to help manage your business or organisation, Our databases are currently developed using Microsoft Access or OpenOffice Base, but we can also now offer SQL server solutions to your database needs..
Rates for 2012
Item
Cost
Computer Support and Consultancy
(per hour + travel expenses where appropriate)
£32.00
Travel Expenses: £30 minimum fee for the first 15 miles from Broughton, and then £0.50 per mile beyond that.