The Glenholm Centre offers good quality 3 star (AA) guest house holiday accommodation for visitors to the Scottish Borders region of southern Scotland and in particular the towns of Peebles and Biggar.
.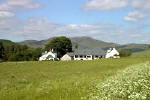 The Centre was created from the original Glenholm school, which closed in 1943, and the adjacent school teacher's house. This house was converted and expanded to provide three very comfortable rooms, two twin-bedded and one double. Its decoration blends Scotland with a hint of Africa reflecting the nine years that Neil and Fiona spent in Zambia. Indeed much of the furniture in the Centre was made in Zambia by a small company named Dzithandizeni, a Zambian word meaning "We help ourselves"..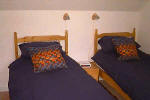 All accommodation in the main building has en-suite shower and toilet and comes equipped with colour television (FreeSat), video, DVD player, radio, fridge and tea and coffee making facilities. The main building is centrally heating and each room has its own controllable radiator. In addition all beds have electric blankets.
A Typical Day at
The Glenholm Centre
Wake up to the sounds of the countryside.
Enjoy a full farm breakfast in the Centre's dining room.
Spend the morning exploring the area, perhaps taking a walk in the nearby Dawyck gardens or visiting Tweeddale's towns and villages.
After lunch how about a walk along the glen, discovering more of its scenic beauty?
In the evening, enjoy a hearty three course dinner and then relax in our comfortable lounge and residents' bar.
Retire to bed with only the babble of the burn and the hooting of the owls to keep you awake.
We offer bed and breakfast and half board accommodation while the Tea Room serves lunch at the weekend, and packed lunches are always available on request. Prices are listed at the bottom of this page. Depending on the time of your visit, stays of more than one night may be discounted.
As part of our commitment to the environment we are hosts of the Glenholm Wildlife Project. We welcome walkers and cyclists.
Please note that in the interests of our guests we are a non-smoking establishment.
Accessibility
One ground floor bedroom and its en suite bathroom have also been equipped for wheel-chair access and most of the centre is accessible with a wheel-chair. The room and bathroom are recognised as being suitable for unassisted wheel-chair access.
Farmhouse Cooking
The Glenholm Centre prides itself in providing farmhouse cooking at its best. Indeed the AA have recognised Fiona's exceptional cooking with awards for both a very special breakfast and dinner.
All meals are prepared from fresh and most are served buffet style in our dining room, which has spectacular views up the glen towards the hills of Chapelgill and Cardon. Vegetarian options are always a feature. The Centre will do its best to accommodate all dietary requirements but requests that where possible these requirements are made known in advance.
Our residents' bar is stocked with a small range of beverages including a selection of beers from the local Broughton Ales brewery, one of Scotland's leading small breweries, and a small list of wines.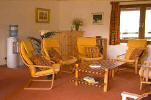 From April to October, at the weekend (10.00 AM until 5.00 PM) and at other times by prior arrangement the Centre runs a small tea room where we are happy to serve morning coffee, snack lunches and afternoon teas to any visitors to the Centre, making the Glenholm Centre an ideal starting point for a day out in the hills. See our walking page for more details.
We can also serve evening meals to the guests of residents and training course participants at £20 per person. With advance notice we are also very pleased to offer meals to other non-residents.
The Farm
The Glenholm Centre nestles within a working farm, stocked mainly with black face and grey face sheep and occasionally resident cattle. In addition the farm is home to several pet donkeys (some of which are miniature) and Shetland ponies. Visitors to the Centre are encouraged to walk around the thousand acres of fields and hill which make up Cardon Farm, and discover more about life on an upland sheep farm. Four walks are clearly way-marked and interpreted. See the walking page for more details.

Pets
Our family includes two friendly dogs, both bearded collies. Minty was born in July 2005, is black and white and is a gentle soul, fond of pats and sleeping. Sage was born in August 2009, is almost pure white, apart from the tips of his ears, and very shaggy. He's cuddly but very shy and unfortunately prefers not to meet new people.
We all welcome dogs and other pets by prior arrangement. Unfortunately we cannot allow guests' pets in the lounge or dining room but they are definitely welcome in the guest rooms. Being on a working farm, care must be taken that dogs brought to the Centre and to walk in the glen are kept under control at all times and are not allowed to worry livestock. Special care must be taken during the months of March, April and May when lambing is in progress.



Other Facilities
A computer in the main building provides free Internet access for guests, while all rooms have network sockets and wireless (Wi-Fi) access allowing broadband Internet access for lap-tops through the Centre's network (again free).
A wildlife project launched in the Spring of 2005 introduces wildlife related activities to the glen, including a wildlife pond with an overlooking hide, an area of woodland walks and a shop selling a range of wildlife related goodies plus books and leaflets to tell you all about Glenholm and its wildlife.
To check for availability, enter the date range you are interested in and click on the Check Availability button.
Rates
The Centre's accommodation prices for 2014 are as follows:
2014
Accommodation per person per night
Feb
-Mar
Apr
-Jun
Jul
-Aug
Sep
-Oct
Nov
-Dec
Bed and Breakfast (shared room/suite)
£33.00
Bed and Breakfast (single room)
£40.00
£40.00
£43.00

£40.00

Dinner, Bed and Breakfast (shared room/suite)
£50.00
£53.00
50.00
Dinner, Bed and Breakfast (single room)
£58.00
£60.00
£63.00
£60.00
£58.00
Children aged 12 and under are entitled to a 50% discount while those under two years are welcome for free.
Note that the Glenholm Tea Room within the Glenholm Centre also serves lunches at weekends and by prior arrangement from Easter to October.
Special Offers
Throughout the year we have some special deals for shared dinner, bed and breakfast stays of two or more nights. The rates are:
2 Day Dinner, Bed and Breakfast Shared
per person
per person
per night
Winter - February to March 2013
£100.00
£50.00
Spring - April to June 2013
£102.00
£51.00
Summer - July to October 2013
£102.00
£51.00
Autumn/Winter - November to December 2013
£100.00
£50.00
The 2-day rates can be pro-rated up to cover stays of more than two days again for half-board accommodation where the room or suite is shared.
Any stay of seven days or more (including single and bed and breakast accommodation) automatically qualifies for a 10% discount on the normal full prices quoted under Rates above.