Microsoft PowerPoint - Movement and Sound
Quality Computer Training in a Relaxed Setting in Southern Scotland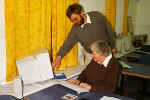 This is a four-hour course following on from the basic course and designed for those who can already produce simple PowerPoint presentations but would like to add more in the way of animation, movement and sound. The training content is outlined below.

The course typically runs during a morning from 9.00 AM to 1.00 PM but could span four hours in the middle of the day if preferred. Participants may also be residential. For more detail of how our half day relax and learn modules operate please click here, for our rates click here and for details of how we schedule course please click here.

1. Advanced Animation Effects Particularly focussing on the powerful custom animation developments in PowerPoint XP.

2. Adding Sound Using sound files, sound from the clip gallery and CD backing tracks..

3. Using Video Inserting animated GIFs and video files into your slides..

4. Rehearsing and Giving Your Show Some clever techniques to smooth your presentation.

5. Using a Sound Editor Editing sound files to produce just the effect you want.

6. Using a Simple Animation Editor Producing your own animated GIFs.

If you have any questions about this course please contact us using the contact details below.
---
&copy The Glenholm Centre
Broughton, by BIGGAR, Scottish Borders ML12 6JF
Telephone: 01899-830408 - Fax: 01899-830408
E-Mail: info@glenholm.co.uk
---